Here I'm going share the sites I often look to for guidance on a product or brand as well as symbols I look for on a product.
The brands shown here include some favorites of mine that are Cruelty-Free, Vegan, Ethical, Eco, and or at least Not Tested on Animals, however, a couple may be owned by a parent company that is not Cruelty-Free but the brand I use is (at least at the time I posted this).
As a rescue pack mom, I do hope one day very soon all the parent companies become Cruelty-Free though and I hope by supporting a brand whose parent company isn't, will take the hint so to speak about being Cruelty-Free.
I am often offered or sent products for review that are NOT Cruelty-Free, but I always reach out to the company to express that I hope they consider being Cruelty-Free and at times the companies are working on it.
I am known for also making the point that I wish they are Cruelty-Free in my reviews on their own websites and were sold.
Navigating through the world of" Cruelty-Free", "Eco-Friendly", "Green" Beauty or Personal Care or Household Products, "Organic" or even "Vegan Beauty or Personal Care" Can be confusing, at times even downright frustrating! Believe me, I know as I have been "Cruelty-Free" and "Eco-Friendly" in my Beauty, Personal Care, and even Household goods for years and I still get stumped or frustrated.
Over the years I have been shocked at how many things are labeled with cool names or terms, that would make them seem totally safe and healthy for us, our families, pets, the environment and you'd be surprised how many are not.
One thing I find shocking is why the items that are truly in these categories, they often are much more expensive.
Another thing, there are things in our lives, I think many of us just assume, because of the type of a product that they are, that, it of course, is "Eco-Friendly or Non-Toxic" Things like Mattresses, Interior Paint, Carpet or other Flooring, Cookware, Food Storage, Makeup, Skincare, Feminine Care items, Diapers, Personal Care items, this is so not the case!
Sadly, just because a brand may use some form or "Organic" or "Green" in its name or product description, doesn't mean it really is and if you're not confused yet, well there is more! lol
Plus, if something claims it's "natural" doesn't mean it is 100% Natural, Cruelty-Free, Not Tested on Animals, Vegan, Green, Eco-Friendly, or Non-Toxic!
I have seen some products that the brand merely uses modified versions of these terms in their product names, brand name or even product description, but really weren't as you think they would be because of this description so it can be misleading!
Some brands are Cruelty-Free here in the US or even around the world, but in mainland China they aren't and they do in fact test on animals or some brands, like seen in beauty brands the makeup or skincare line is Cruelty-Free, but the fragrance the line isn't and this is often because the use of the brand's name was sold or rights are given to a company that doesn't share the same views as far as Cruelty-Free or Animal Testing.
I have also learned just because a beauty or skincare brand is "Vegan" it often doesn't mean it is also Non-Toxic, Eco-Friendly or Cruelty-Free, sometimes sells the company and well are no longer what they once were.
I hope you find this list helpful or maybe even find your next favorite product or brand.
***Please note I am NOT a representative of these companies, these are just personal favorites we use in our household if a brand has sent a product for review, it will be noted otherwise we purchased these items on our own.
Missy 💜🐾
Accessories, Shoes, Fashion Brands:
Angela Roi
Stella McCartney
Matt & Nat
Noize
ModCloth
Gap
Nasty Gal
Urban Outfitters
WAMA Hemp Underwear
Household Goods and Decor:
Evil Queen Candles

Beauty, Beauty Tools, and Skincare:
Elemis
Derma e
E.L.F. Cosmetics
Eye of Horus
Ofra
Lavido
Eco Tools
the Balm
Sigma Beauty
Hanalei
Urban Decay
Tarte Cosmetics
Marc Jacobs Beauty (Not fragrance as Fragrance is NOT Cruelty-Free, but Beauty is!)
Bite Beauty
OSEA
Kopari
Alba
100% Pure
DOSE of Color
Lily Lolo
Pacifica
Charlotte Tilbury
Modern Skyn Alchemy
Ogee
Luxie
Obsessive-Compulsive
Purlisse
FitGlow
Nature's Cartel
Kind Lips
Kani Botanical Beauty
Noyha Lip Balm
Antonym
Hourglass
Peony
Thrive
Bare Minerals
Grande Cosmetics
Lashes:
House of Lashes
Ardell
BlackMoon Cosmetics
E.L.F.
Motd Cosmetics
Sugar Pill
PUR
Herbivore
Fragrance and Perfume:
Henry Rose
Clean Beauty
The 7 Virtues
Kat Von D Beauty
Melinda Lee Holm
Save up to 30% off on DERMA E bundles! ​
Hair Care and Hair Color:
Alba
OUAI
DryBar
Madison Reed
Verb
Living Proof
Overtone
Arctic Fox
Manic Panic
Amika
Bumble & Bumble
Raw Sugar
NaturColor
Herbatint
Naturtint
Giovanni
Nail Color:
Spa Ritual
E.L.F.
Wet N Wild
Karma
Mineral Fusion
Marc Jacobs Beauty
Madam Glam Vegan
the Balm
Manic Panic
Obsessive-Compulsive
Orly
Hype
Pixi
Pacifica
Piggy Paint
ella + mila
Debborah Lipmann
Zoya
Mineral Fusion
Personal Care:

Alba
Schmidt's
Lola Feminine Care
Everyone Lotion
Beauty Without Cruelty
Kopari
Every Man Jack
Green Goo
Kaia Naturals
Andalou
Willow & Moon
Gracious Om Botanicals
Summer's Eve
Gilchrist & Soames
Sky Organics
Desert Essence
Dr Bronner
Himalaya Toothpaste
Heritage Store
Raw Sugar
Nads
Seventh Generation
Cleaning Products
Mrs Meyers
Method
Simple Green
Bar Keepers Friend

ECOS Laundry

ECOS Household Cleaners
Ecover

Mrs Meyers Laundry Products

Mrs Meyers Household Sprays and Cleansers

Wool Balls

Dr Bronner

Bona Floor Care
Carpet Miracle
Grab Green

Honest Company
Seventh Generation
BioKleen
ATTITUDE Cleaning and Laundry Products



Cruelty-Free Subscription Boxes:
Evil Queen Candles
PetitVour
Kinder Box
Bombay and Cedar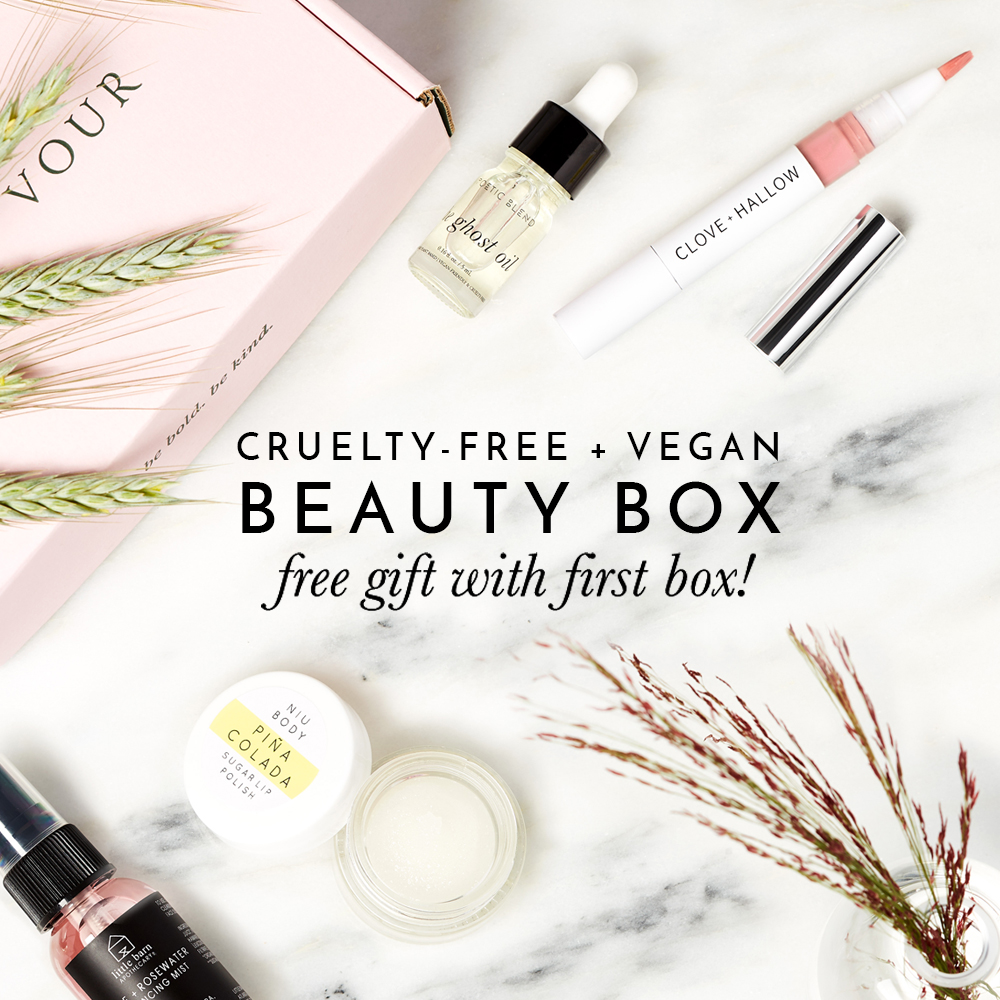 *The links in this post may contain affiliate links and I will receive a small commission(at no cost to you) if you make a purchase after clicking on my link*