** Missy was not monetarily compensated for this review. I was provided a Jord Wood Watch for review; however, my views and opinions are my own and are solely based good or bad on my or our experience with a product or service.
Hello everyone, hope your New Year is off to an amazing start! Today I am excited to share with you a product review that I have truly enjoyed as the subject of this review has long held a place in my heart.
That subject is watches, Jord recently reached out and asked if I would be interested in reviewing one of their watches. Now I'm about to get a bit nostalgic... My love of watches and clocks goes back to my childhood when my great grandfather was still alive. You see, my great grandfather had a love for timepieces, from grandfather clocks, cuckoo clocks, pocket watches and especially wrist watches. My great grandfather loved the sound the movements made and how the hands would sweep across the face to the crystal that covered that face. I had never seen a watch or clock great grandfather didn't like until digital watches came out!
I remember, my great grandfather was the one who showed me how to tell time and the reason he didn't care for digital watches or clocks, because to him a watch should be able to be an heirloom, one that you can pass down to your children, grandchildren or even great-grandchildren. He said these types of watches are crafted with passion and by actual craftsmen.
Now I've seen and had even purchased a wooden watch, years ago, however despite the cost the quality really wasn't there. So honestly, I wasn't sure what to expect, when Jord had reached out, but I am glad I accepted as their watches have completely changed my views on a wooden wristwatch.
Jord Luxury Wood Watches are
handcrafted heirloom quality timepieces
! We're not talking about a watch that was merely sent to me we are talking about a handcrafted timepiece that was even sized to fit me.
So, if you are in the market for a timepiece or one shopping for one that is a unique gift, Jord Watches offers a
great selection
from classic to modern, even a few in between, as well as engravable pieces.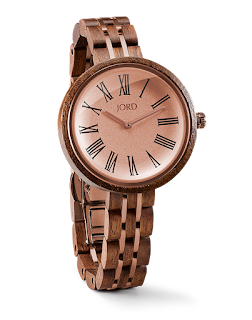 Jord Watches makes it easy to buy for oneself or as a unique gift because they are handcrafted and have a beautiful selection of woods they work with.
Jord Watches have also provided me with a link for a giveaway they are having for $100.00 e-Gift to use on their site.
**Open to 18yrs old and over, Jord ships worldwide and Giveaway ends Feb 20, 2019
**Blogger is not responisble for prizing, as it is solely provided by Jord Watches
Enter Giveaway Here:
Thank you for stopping by today, take care and have a wonderful weekend,
Missy
💖